DIY Fireplace Makeover
The fireplace is so often the centre of a room. Particularly in a lounge or a dining room, it is the fireplace that draws the eye as you walk in. Old fireplaces can be great, but there's a world of difference between 'period' and 'tired'.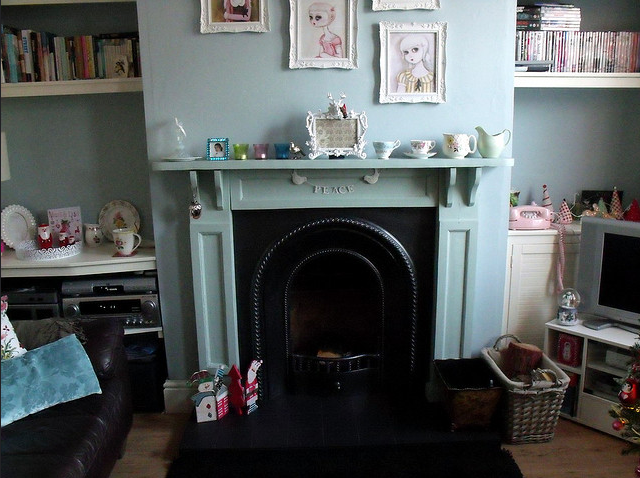 People can be put off from renewing or replacing fireplaces, or from being a bit braver and trying something completely new and different, but it doesn't have to be all that difficult and the results can be more than worth it.
A working fireplace consists of a firebox, a flue, a hearth, a surround and a mantle. But the hearth, surround and mantle are what we would call the 'decorative' features that determine the look of your fireplace. These can typically be constructed of various types of masonry or brick, different woods, as well as tiles and cast iron. Marble, in particular, is a popular stone for fireplaces, as it is considered to give a prestigious look, and can be durable, keeping its smart look with a fairly small amount of effort on your part.
Choosing Your Fireplace
Maybe one of the first things to consider is whether it is a working fireplace. There's nothing wrong with fitting a surround against a flat wall or covered opening and many fireplaces are purely decorative. But, if a fireplace is in use, you should consider the materials being used and make sure that you conform to building regulations in regards to a chimney or flue. If you're not a professional, finding someone to ensure safe and legal fitting is a must.
Wooden surrounds tend to come in easy-to-install kits. Usually it's possible to choose your combination of mantel shelves, back panels and hearths, giving you a measure of freedom over the final look of your fireplace. However, brick and particularly stone surrounds often give the most impressive results. Stone surrounds typically take more assembly, largely due their weight and the fact that it needs to be broken down into more parts.
Reclaimed fireplaces from Victorian and Edwardian period houses can look good in the right room. These can be great cast-iron affairs used in conjunction with (usually dark) wood or marble. With anything reclaimed, however, be very careful about what you are buying. Is it all there and is it all in good condition? If there is a problem, is it solvable and what will it cost?
If period is what you're after, but you don't like the risk associated with a reclaimed fireplace, consider a reproduction. The advantage here is that they can often be made bespoke for the space you have, whereas with an original fireplace, you have to work with what's there.
Fitting Your Fireplace
As already mentioned, if you are replacing a working fireplace, then a qualified professional should be involved. The following assumes you are fitting a purely decorative fireplace:
Firstly, lay the hearth. Start with a clear and level base upon which to work. That means that both the floor and the wall. Measurement and accuracy will be the key to the success of your fitting. You don't want gaps. You'll be bedding the hearth with sand and cement, so you can use this to level the floor, if necessary. Position your hearth and panel where they need to go, then mark their position for ease as you go on.
As mentioned, a mixture of sand and cement is used to bed the hearth in its position, while the panel can probably be attached using tile adhesive. The hearth should be central to any fire opening. Columns or legs are screwed into the wall using brackets that, in most cases, are supplied with new fireplaces. The mantle can be attached using a strong glue. For stone or marble fireplaces, tile silicon could be a good choice.
Image credits: Kitty Blossom
---