Stuff you need to know about landscaping with diggers and dumpers
Is your outdoor space looking a little worse for wear? If so, it may be time to give it the makeover it deserves! Turn your untidy and unpractical space into something beautiful and functional with DIY landscaping.
Of course, if you are going to landscape your garden, you are going to need the right tools. Diggers and dumpers are both essential. They will allow you to overhaul your garden and remove the leftover waste with ease.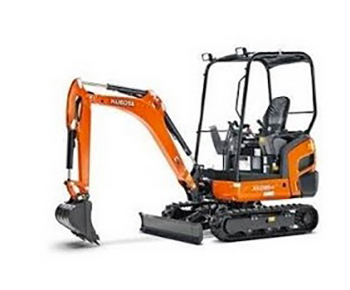 Hire a digger like Plantool's Excavator to landscape your garden with ease.
Things to consider before hiring a digger
If you plan on hiring a digger for landscaping your garden, you will have many different machines to choose from. It's therefore important you think about the task you need to carry out. Are there any restrictions in terms of width or height? Is the ground level?
It's important to consider the space you will be working in in terms of getting the digger in and out of that space. Consider the entrance spaces. Most diggers will allow for smaller space as the tracks will move inwards to fit through tighter areas.
A tracked dumper can be used in conjunction with the digger to clear waste material created from digging. Our mini tracked dumper has a high dumping system with vertical guides. With this machine a single operator can dump the material from a high position directly into the container or truck in total autonomy. It's the ideal solution for transporting and handling concrete and any type of inert material.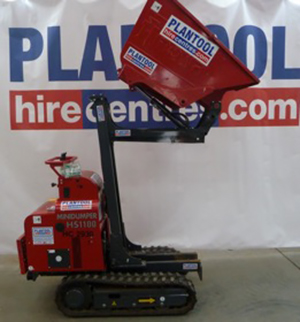 Plantool's mini tracked dumper available to hire now
Getting an idea of your restrictions will help you to work out what size digger you need, how deep you need to dig and how much soil you need to excavate. We offer two different sized excavators for hire: a 0.8 Tonne Micro and a 1.5 Tonne mini. Feel free to get in touch to discuss which would be most suitable for your DIY landscaping project. We will also provide a price upon application. If you need to be able to move the excavated soil, it is best to hire a dumper too.
Qualifications / Experience for hiring diggers and dumpers
There is currently no legal requirement for digger or dumper operators to hold a licence for personal use. You won't need experience driving a digger or dumper in order to complete the hire purchase, however we will run through all of the controls upon delivery, to ensure you can operate the equipment safely. We also recommend reading through the operating manual (which will be supplied) and checking the safety stickers for specific warnings and further instruction.
Making a plan
Don't start digging without making a proper plan. Decide which parts of your garden you want to landscape. We recommend breaking it down into smaller sections to make the task more manageable and affordable. Using the dumper to remove unwanted rocks, soil and turf in between will help you to manage the mess without getting overwhelmed.
Carry out pre-dig checks
Before you get to work on landscaping your garden, you need to carry out a few checks. For example, you will need to investigate any underground obstructions such as gas, electricity and water pipes, as well as things like telephone lines, which may be affected by your excavation. Even a small machine is capable of damaging them, so it's important to work out how far you can safely dig without causing disturbance.
Plantool supply some equipment to help with these checks such as the CAT detector which will detect any cables lying around. We also supply a signal generator which generates signals to a target line to locate a single through line through particularly congested areas.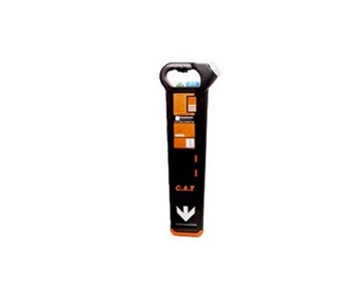 Plantool's pipe and cable detector available to hire now
Practicing on firm, level ground
If you are new to operating a digger, we recommend trying out the machine on firm, level ground. Whilst both our Micro and Mini diggers are very stable and have great balance, they can take a little getting used to.
Taking out insurance
It's worth keeping in mind that if you hire a digger or dumper to landscape your garden, you will be held responsible for any damage to the machinery or if it is stolen. It is therefore a good idea to make sure you take out insurance. Most household insurance companies will let you add the digger and / or dumper to your policy for the hire period.
Hiring a digger and dumper to landscape your garden can save a lot of time, effort and backache, so put that shovel aside and take a look at the machinery we have to offer. You will find technical details for each of our landscaping diggers and dumpers on the product pages. Book online or give us a call on 0800 334 5365 for more information.
---