Working on your house this summer: The benefits of using access platforms
Rather than hiring out professionals, today many homeowners decide to carry out DIY home improvements. Whilst this is great for saving money, there are a number of risks to be considered, especially if working at height.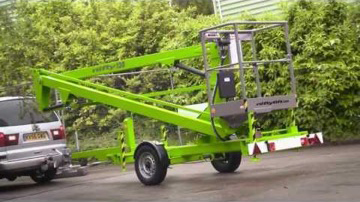 If you plan on doing any work on high-level windows, your roof or any trees in your garden, we highly recommend hiring an access platform. Here we'll take a look at some of the benefits of using them for summer home improvements.
Niftylift 120 – 12m Towable Platform Lift 
Safer than ladders
Did you know that on average, 12 people die each year from falling off a ladder? A further 1200 people suffer more major injuries. Ladders in particular are a major cause of injury.
According to the Health and Safety Executive, ladders should only be used for light work and shouldn't be kept in one position for more than thirty minutes. You should not carry more than 10kg up a ladder and you should be able to maintain three points of contact at the working position.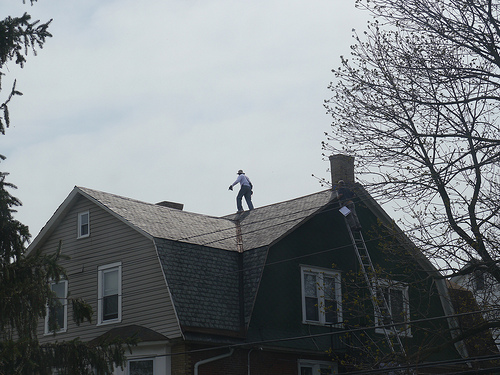 When working on your house in the summer, you may find some of the requirements outlined above simply aren't feasible. This is where an access platform comes in. Access platforms provide an easy and safe solution to working at height. They can be put accurately and safely into position, giving you the peace of mind that you will not be putting your life at risk, whilst working above ground.
Ladders aren't always the safest pieces of equipment to use when carrying out summer home improvements.
Save time
Although scaffolding is often considered a great alternative to using a ladder, it's not exactly convenient for home environments. Most people are unaware of how to erect scaffolding properly and will therefore have to hire someone to erect it for them.
Scaffolding can also be very time consuming to erect and dismantle. So if you were hoping to carry out a few quick home improvements, it's going to take you much longer than you originally thought.
Rather than wasting time and money on scaffolding, it makes much more sense to hire an access platform instead.
Eliminate security issues
Another reason why access platforms are better for carrying out summer home improvements is that they eliminate security issues. The problem with erecting scaffolding on your house is that there is a risk of unauthorised individuals climbing in and falling from it. There is also a risk of theft, which could result in damage to your property (e.g. tiles being taken from your roof).
The great thing about hiring an access platform is that it can be picked up once you have finished using it, so there isn't any chance of unauthorised individuals using it to access your house.
Are they suitable for all terrains?
Plantool can supply access machines that can be set up for use on varying ground conditions including lawns and gravel. Please call your local Plantool depot for expert advice on machine selection to ensure you get the right machine for the job.
Inexpensive to hire
Many people assume that hiring an access platform will be too expensive for them but in actual fact it's very cost effective. If you fancy hiring one for working on your house this summer, simply get in touch and we'll provide you with a no obligation quote.
The benefit of hiring an access platform from Plantool Hire Centres is that we are fully responsible for the maintenance and servicing of our equipment. This means we can guarantee that you will be provided with a highly efficient access platform, suitable for the task in hand. Get in touch for more information.
Image credits: jonseidman1988
---